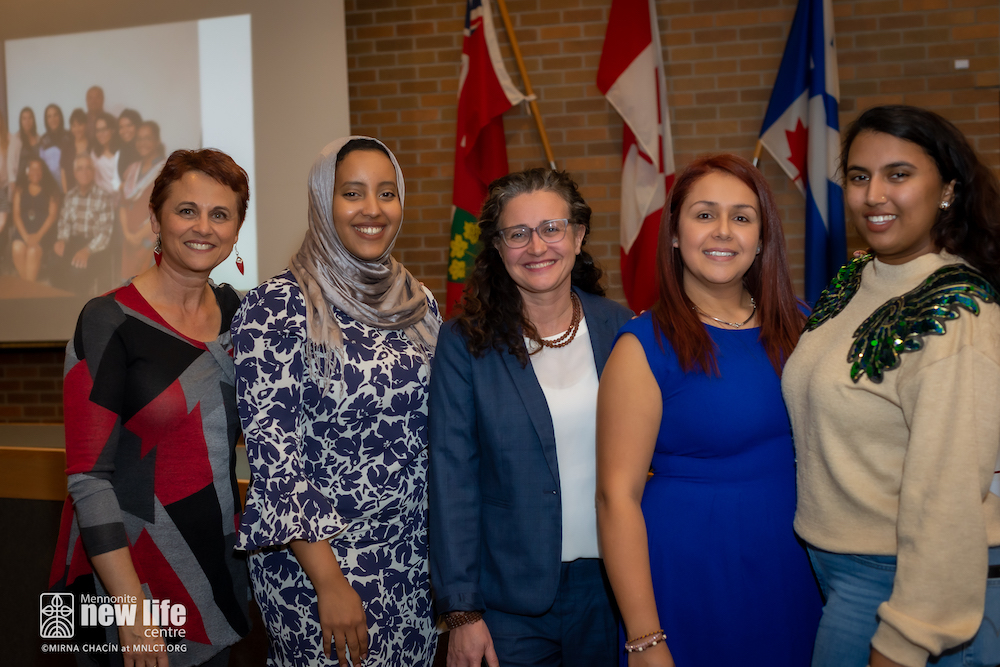 BEMC/BREM: Hats Off to New Graduates!
Cohorts of MNLCT's media and mental health bridging programs celebrate their success
Written by Miles Hamzi, Photos by Mirna Chacin
A major milestone was marked on November 14 for students of the Mennonite New Life Centre's bridging programs. It was the day they celebrated their graduation in the presence of their families, friends, teachers and the Centre's staff at the North York Civic Centre in Toronto.
It was a proud moment for each graduate as they received their certificates from the program directors – celebrating not only the completion of the program but their journey as a whole. Most of all, they celebrated the challenges, hardships and tireless efforts faced in the pursuit of their passions in a new homeland.
The ceremony focused on the two main educational programs the MNLCT has designed for newcomers. The Bridge to Employment in Media and Communications (BEMC) program prepares internationally trained media and communications professionals to integrate into the media, communications, and related fields in Ontario; while the Bridge to Registration and Employment in Mental Health (BREM) is designed to prepare participants for finding employment in the field of mental health and registering with the College of Registered Psychotherapists of Ontario (CRPO).
BEMC helps cohorts explore career options in Canada, understand the local media, build professional brands, assess and develop their skills for the Canadian labour market, and provide valuable and relevant work experience, said Timaj Garad, BEMC's program manager.
"We've had amazing success in providing opportunities for newcomer media and communications professionals to network, find valuable work and mentorship opportunities, and become job-ready for the Canadian workforce," explained Timaj.
"We've been able to advocate for the necessity of newcomer voices in media by forging partnerships with industry leaders and demonstrating to them the capacity of our participants. Media is a rapidly and ever-evolving industry. As a program, we are able to stay current and provide a bridge that also supports the larger transition many media professionals will have to make to adapt to the digital new media era."
MNLCT has partnered with leaders in the media and mental health sectors to provide on-the-job work experiences for program participants. Khaled Mansour, who was among the BEMC graduates, explained how the program has helped him land a job as a videographer with a professional media organization in Toronto.
"I moved from Egypt in 2018 and discovered how challenging it was to find a job in my field. I ended up working in something completely unrelated – until now. The BEMC program set me on the right path. I truly appreciated the Ontario Media Landscape course which expanded my knowledge about the sector," he said.
"BEMC offered me an internship opportunity as a videographer which consequently led to a part-time position with New Canadians TV, where we cover events across all provinces."
Khaled says the key to landing a job is education. "My advice to any immigrant is to seek some sort of education, no matter how learned they are. Searching for a job is never enough. Investing in education will open up networking opportunities where engaging with the community is highly crucial."
For Elda Almario, the BREM program also helped her secure a placement and employment. She registered with the College of Registered Psychotherapists of Ontario (CRPO) as a qualifying member six weeks after she completed BREM. She now works full-time at Griffin Centre as a Youth/Family Support Services Worker, as well as a part-time psychotherapist in a private practice at Therapy Heals.
"My journey has been tough but definitely a meaningful one," explained Elda. "I moved to Canada from the Philippines in March 2018 and was fortunate to have started with the BREM program right away which meant I was supported immediately."
She says the most challenging aspect of her Canadian journey has been being away from her family and friends. "It felt as though all of my privileges, which I have been so accustomed to having in my home country, were taken away from me – searching for a job was always easy because I was well connected in my professional field," said Elda.
"My advice (to newcomers) would be to maximize their resources; use their strengths and work on their weaknesses. Remain curious because there is always something to learn. Finally, search for the power within yourself because that can never be taken away from you."
For other cohorts who have gone through these programs, there is still much to be done to achieve their goals. Ola Adebayo arrived from Nigeria a year-and-a-half ago. "I have had one quest since leaving Africa: explore western media. I'm not there yet, but exploring the Canadian media landscape through the BEMC program was an exhaustive foundation."
Nevertheless, Ola is making the most of his adventure. "In just 18 months, I've had a lifetime of experience. Seven months of TV production, seven months of media training, coaching soccer, meeting people, and making new friends that have turned family."
Despite his achievements, he does not undermine the challenges.
"While it's widely believed that Canada is a land of opportunity, settling will be challenging. Brace up and be strategic about achieving your goals. Come up with Plan A, B and C. Canadians are extremely traditional; integrate and understand them quickly. Step out, make friends and have fun!"
Alexandra Rodriguez, BREM's program manager, highlights the importance of employers recognizing the value of the background and experience of internationally trained professionals. "They are coming from all over the world and as mental health professionals, they are willing to bring their knowledge and skills to this new land," she said.
"They have an enormous desire to help others and they are very excited about supporting Canadians. In the BREM program, we explore all the skills that they bring, the experience and their disposition, and we train them in how to navigate the mental health system in Canada and be successful in their careers," said Alexandra.
"In almost 10 years we've seen many successful stories. Whenever I see one of our participants shining and contributing to this society, I feel we have accomplished our goal."
Riffat Yusaf knows the meaning of perseverance. After arriving in Canada, she initially pursued alternate careers after finding out that her Masters degree in psychotherapy from Pakistan is not recognized at the same level in Canada and she would need to upgrade her credentials. So she took – what seemed at the time – the easy route.
"I was told that in order to get professional work, I need to have any type of Canadian work experience. So I worked at a call centre for more than a year. Then I moved to TD Bank as a teller and got promoted up to financial advisor, all the while realizing this is not what I want to do. So I left and kept exploring options that would get me back into psychotherapy."
And that's how she ended up discovering the BREM program. "The BREM program is the most beneficial thing that happened to me in terms of professional training."
At one point, Riffat almost gave up on pursuing her dream, but she is grateful she trusted her intuition and worked hard to achieve her ambition. She advises any newcomer to remain persistent and focused on the bigger picture.
"Never let go of your dreams, even though the path might look long and twisted. If you are focused, you will get to your desired destination. And that destination is not the end of the journey, it's actually the start of the real, more fulfilling and enjoyable journey."