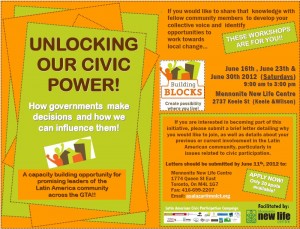 If you are a promising leader of the Latin American community and would like to know how governments make decisions and how we can influence them, come and join the Building Blocks initiative!
Building Blocksis a program of DiverseCity: The Greater Toronto Leadership Project designed to accelerate prosperity in the GTA by enabling diverse leaders to take part in a civic leadership primer on how governments make decisions,  how to impact those decisions, and how to work collaboratively to drive concrete changes in their neighbourhoods!
The Latin American Civic Participation Campaign, a coalition of 16 organizations, recognized that Building Blocks project is as a viable avenue for the advancement of its goal of promoting greater understanding of the Canadian political system, and greater civic participation by Latin American community.  To this end, this community-based campaign has designed a capacity building process for 2012: Unlocking our Civic Power initiative. 
As part of this initiative we are now inviting 20 promising leaders of the Latin American community across the GTA to our three-session training on Canadian Government: Structures, Systems and Decision-Making.  These sessions will be held on Saturdays June 16th, June 23rd and June 30th from 9:00 am to 3:00 pm at Mennonite New Life Centre located at 2737 Keele St  (Keele &Wilson).
Participants will receive:
–         Bilingual (Spanish/ English) high quality training in government structure, system and decision-making process
–         Didactic material to understand easily the complexity of the topic and share with their peers
–         Guest speakers
–         The opportunity to be part of the online community of Building Blocks
–         A hearty lunch and refreshments on the training days 
–         A connection to others who have similar experiences and a desire for change.
If you know someone interested in becoming part of Building Blocks: Unlocking Our Civic Power initiative, please invite them to submit a brief letter (legibly written or typed) detailing why they would like to join, any leadership experience they have, as well as details about their previous or current involvement in the Latin American community, particularly in issues related to civic participation. 
We suggest you all to motivate leaders to apply as soon as possible, given that we have only 20 spots available!
Letters should be submitted by June 11th, 2012 to:
Mennonite New Life Centre
1774 Queen St East
Toronto, Ontario
M4L 1G7
Fax: 416-699-2207
Email: asalazar@mnlct.org