Congratulations Alia!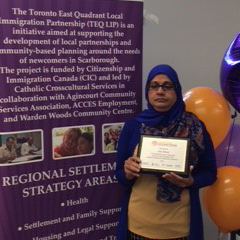 Our volunteer Alia Khan was one of the recipients of the Immigrant Employment and Health Recognition Awards issued by the Toronto East Quadrant LIP in partnership with the UTSC's 150 Neighbours Initiative to celebrate Canada's 150th anniversary. The award ceremony took place on June 23rd, 2017 at the Agincourt Library, in the context of the 2017 Immigrant Employment T.O. Day.
The Immigrant Employment and Health Recognition Awards recognizes key individuals, local businesses, and service organizations who have made outstanding contributions in supporting immigrants and newcomers in employment, health, and well-being within the Scarborough community. 
Alia is a community resident involved in supporting newcomers to achieve successful integration in Canada by volunteering as an ESL Teacher and providing support to women facing domestic violence, isolation and/ or discrimination.
Alia holds a Bachelor's Degree in Social Science from the University of Windsor, a Certificate in Assaulted Women and Children's Counselling from George Brown College, and a TESL Certificate from Seneca College. One of Alia's goals is to use her academic background and experience to help newcomers in overcoming barriers to integration. Learning english along with finding employment is one of the most difficult barriers newcomers face in their new lives in Canada. This is why Alia volunteers her skills and formal training to lead conversation groups and provide support to LINC classes. In April 2014, Alia joined the Mennonite New Life Centre Toronto as a volunteer and started conducting weekly meetings for a group known as "Conversation Club and Support Group for Central and South Asian Women".  This group offered an opportunity for disadvantaged women with beginner level English, to practice conversation in a safe and welcoming environment. In addition, participants experiencing social isolation, discrimination or domestic problems, received support.  Furthermore, Alia has been providing informal support to MNLCT's LINC Program courses. Alia also leads conversation groups at Knox Presbyterian Church (Sheppard and Midland).
Congratulations Alia !!!! …and thank you for volunteering for MNLCT !!!!!
Categories: Volunteering, What's New