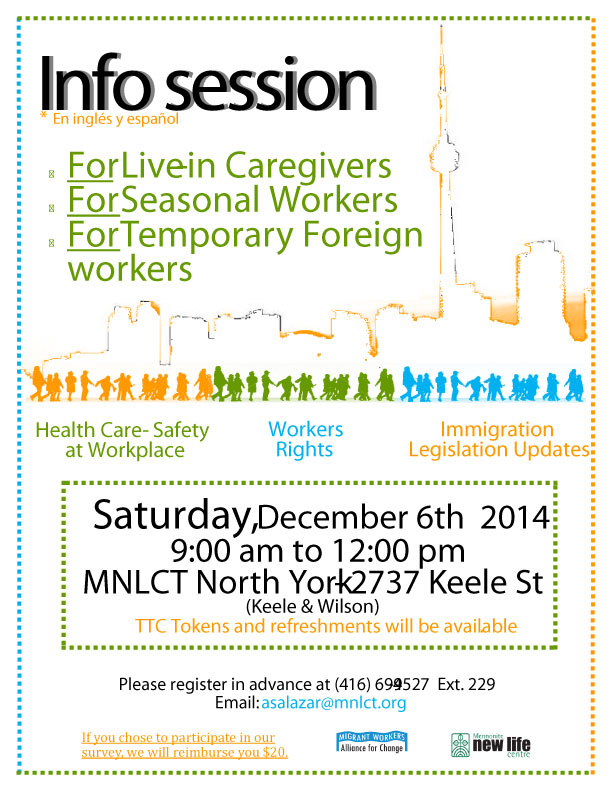 Informative session for migrant workers on Saturday Dec 6, 2014
November 24, 2013
***Spanish version below***
The Mennonite New Life Centre and the Migrant Workers Alliance for Change are hosting an information session for migrant workers and you are invited!
Saturday, December 6th 2014
MNLCT North York – 2737 Keele St
(Keele & Wilson)
9:00 am to 12:00 pm
Please take note that TTC tokens and refreshments will be available if you register in advance.
By migrant workers we mean anyone who has worked on a temporary work permit in the last 5 years in farm work, construction, retail, caregiving, hospitality or others.
At this info session, we will share information on:
• Changes to immigration laws, and how that impacts you,
• Your labour rights working in Ontario, and
• How we can work together to ensure better rights for all of us.
You will also be invited to fill out a survey on how working and living conditions can be improved for migrant workers. If you chose to participate in our survey, we will reimburse you $20.
Your confidentiality is assured and everyone is welcome!
Please register in advance by calling 416) 699-4527 Ext. 229 or emailing asalazar@mnlct.org – lmata@mnlct.org.
_______
El Centro Menonita Nueva Vida y la Alianza de Trabajadores Migrantes por el cambio te invitan a la sesión de información para trabajadores (as) migrantes!
Sábado, Diciembre 6 2014
MNLCT North York – 2737 Keele St
(Keele & Wilson )
9:00 a.m – 12:00 p.m.
Por favor ten en cuenta que tiquetes del TTC y refrigerio estarán disponibles para los(as) que se registren con anticipación.
Trabajadores(as) migrantes son aquellas personas que se han empleado con una visa de trabajo temporal en los últimos 5 años en cualquiera de las siguientes áreas: agrícola, construcción, comercio, prestación de cuidados, u otros.
En esta sesión de información , vamos a compartir información sobre:
• Los cambios en las leyes de inmigración , y la forma como estos cambios impactan a los trabajadores (as) migrantes,
• Los derechos laborales de los trabajadores temporales en Ontario, y
• Cómo trabajar juntos para asegurar mejores derechos laborales para todos(as)!
Al final de la sesión serás invitado(a) a llenar una encuesta sobre tu experiencia de trabajo para poder mejorar las condiciones laborales de los(as) trabajadores (as) migrantes. Si contestas la encuesta recibirás $ 20.
Tu confidencialidad está asegurada y todos(as) son bienvenidos(as)!
Por favor inscribirse previamente llamando 416) 699-4527 Ext . 229 o enviando un correo electrónico asalazar@mnlct.org – lmata@mnlct.org