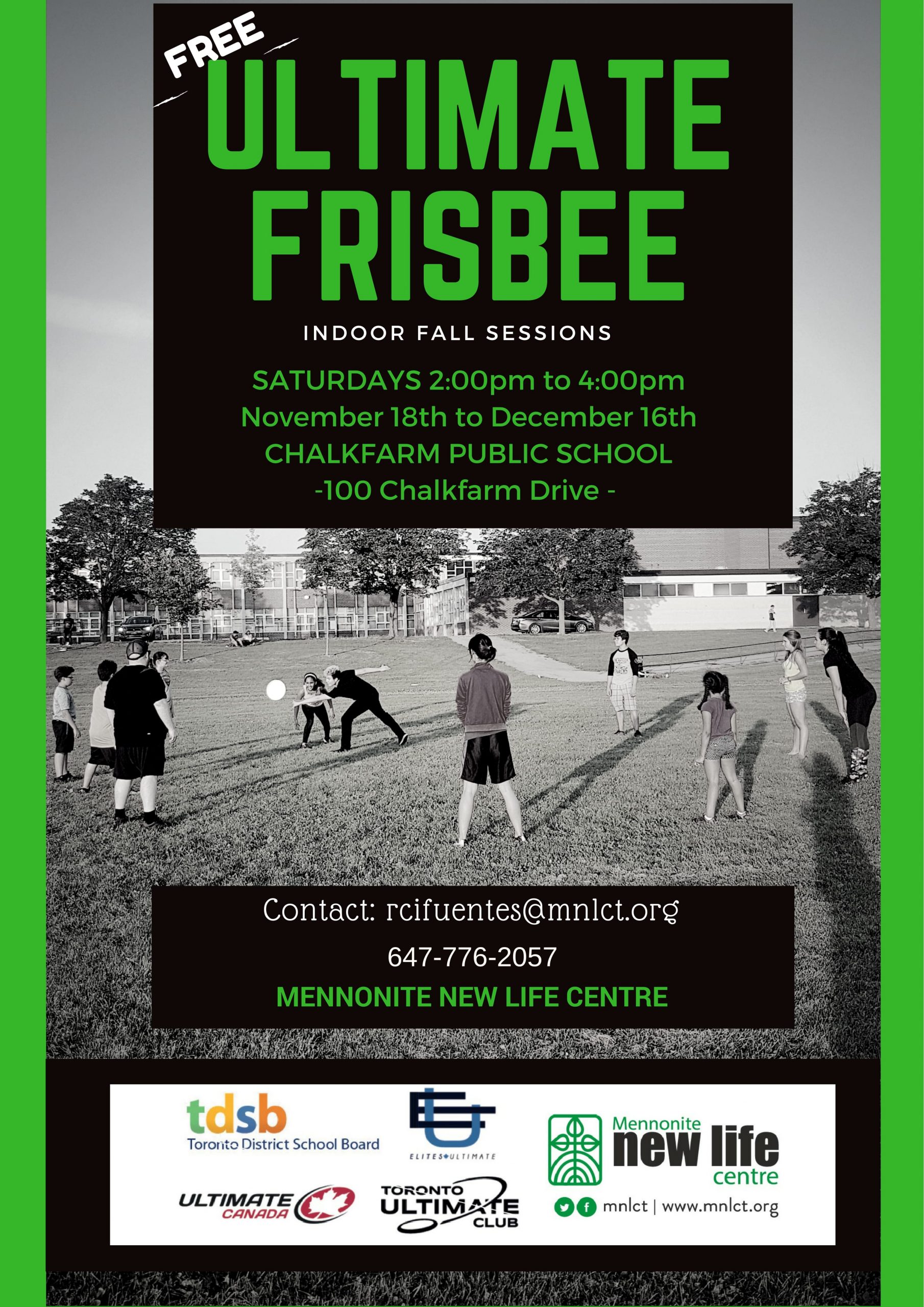 Let's PLAY Ultimate!
Do you know any youth ages 8-17 who would be interested in learning to play ultimate frisbee? Fall sessions runs November 18th- December 16th every Saturday 2:00 – 4:00pm – see details below. The location of the camp is at Chalkfarm Public School (100 Chalkfarm Dr, North York, ON M3L 1L4).
Previous Sessions: Let's PLAY Ultimate Summer Camp 2017
How can I join?
Complete the Registration Package – Fall 2017 and send a copy to Romina (rcifuentes@mnlct.org)
The registration package includes a Toronto Ultimate Club (TUC) waiver.

The TUC waiver is basically for free insurance that will be covering the participant throughout the camp.

Registering for the camp will make you a member of the Mennonite New Life Centre (MNLCT) and will give you TUC membership.
What is Ultimate?
Ultimate is a non-contact team sport, played in over 70 countries around the world. It combines the best features of sports such as soccer, basketball, football into an exciting game that includes a healthy respect for the spirit of sportsmanship.
Support the Youth!
We've received support from the Toronto District School Board (free fields), Ultimate Canada (free discs, t-shirts, & pizza party), and the Toronto Ultimate Club (reduced youth membership rate), but we still need to raise a bit of money to cover the $10 TUC memberships so the youth don't have to pay anything at all.
1) Donate any amount to our campaign here: https://www.crowdrise.com/lets-play-ultimate/fundraiser/mnlct 
2) Donate $20 or more through Canada Helps and get a tax receipt: https://www.canadahelps.org/dn/9960 (put Let's PLAY Ultimate! in the comments section)