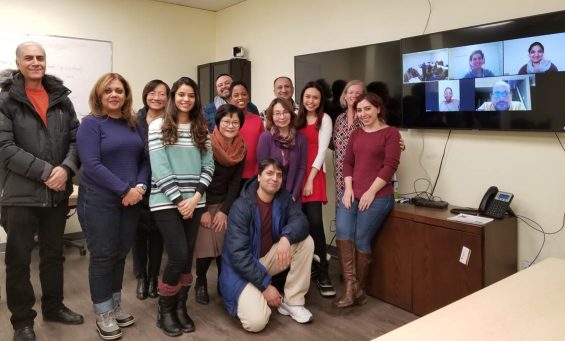 March 2019: Free English Classes | Services now offered in Tagalog | Citizenship Classes offered in English, Arabic, Spanish | Bridging Programs now available across Ontario | BREM Graduate Success Story | New Dates for HOPES & LIGHTS Workshops | Workplace Communications in Canada
As we move through the month of March, we are reminded that spring is almost here! In this newsletter, learn more about events coming this spring and news about programs & services offered by the Centre.
Happiness is Leveling Up!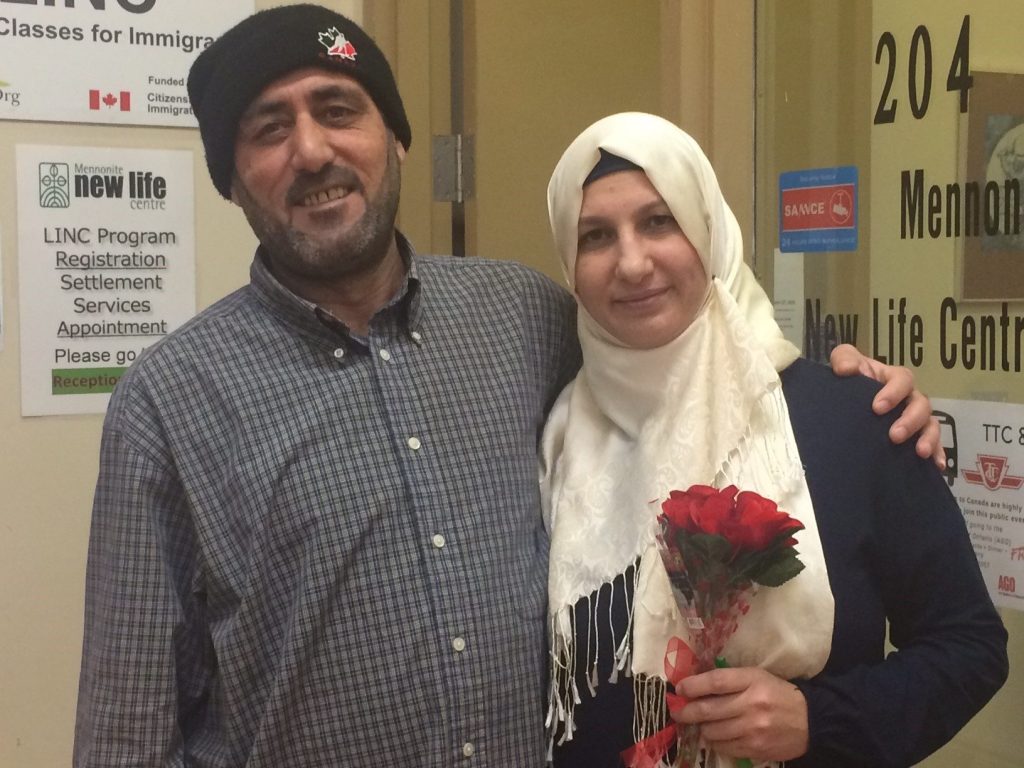 Bassam and Sanaa are classmates in our Language Instruction for Newcomers to Canada (LINC) Level 3-4 class, as well as husband and wife and parents of six children, two of whom attend our childminding program.
Upon learning that Sanaa had been promoted to the Level 5-6 class, Bassam went out – in unforgiving winter weather – to buy her flowers in congratulations.
Their happiness was contagious, and everyone at our Victoria Park office was abuzz with the story. We hope you can feel the joy too!
---
Free English Classes Available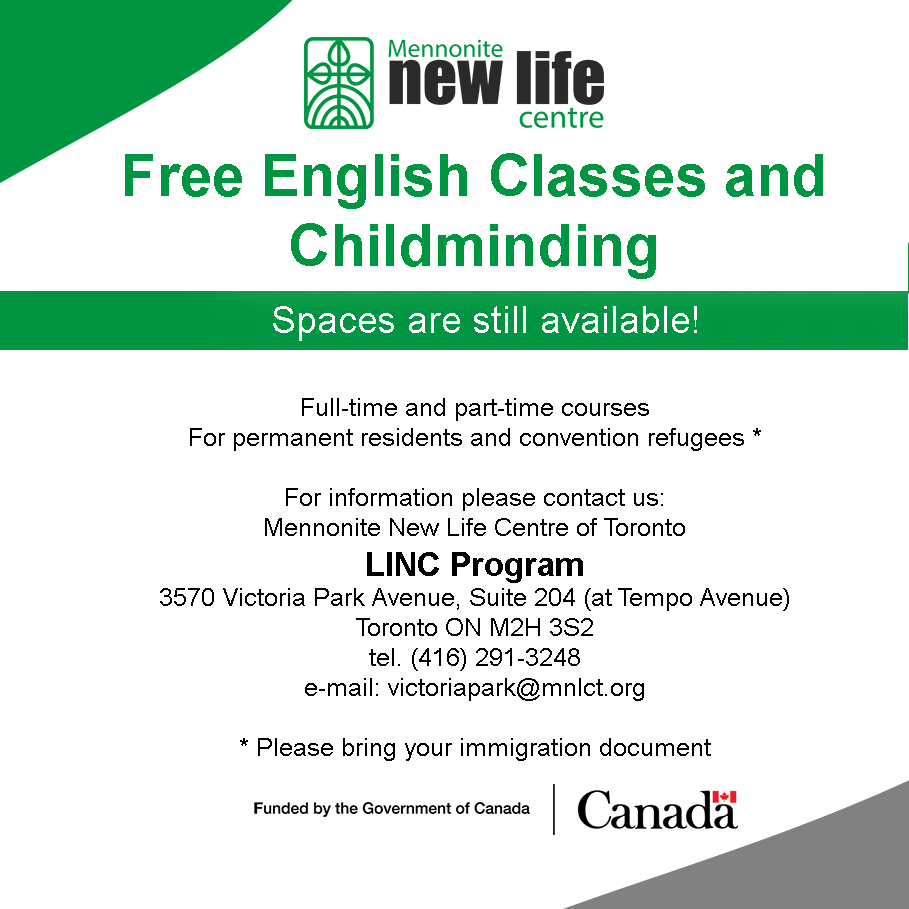 More information on the LINC program like schedules, what the program is, how you can qualify, etc. can be found at mnlct.org/linc
Photos from the LINC 5-6 Class Movie Presentations.
---
Settlement Services now offered at our new Finch Office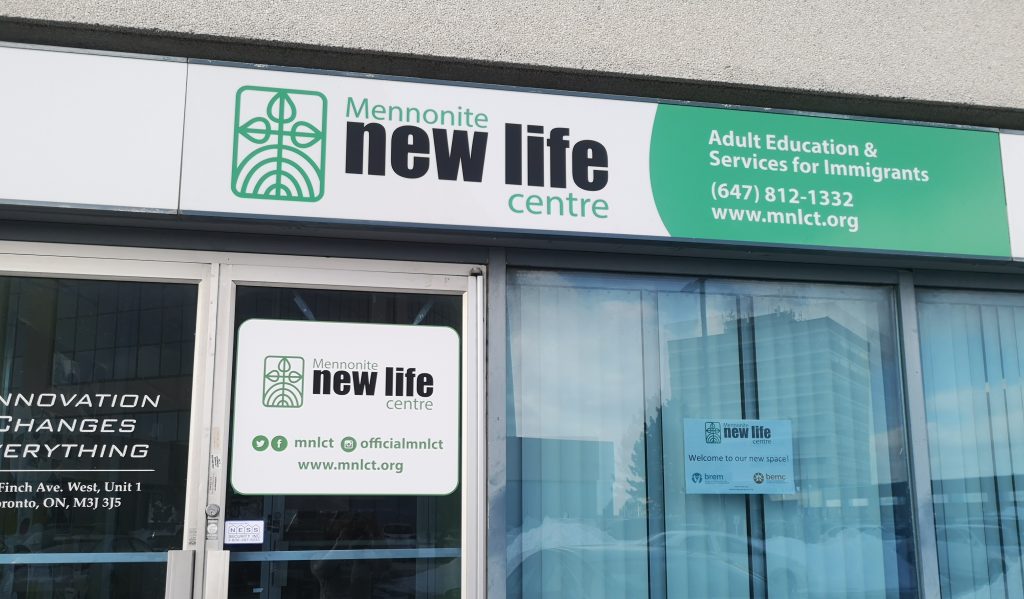 Settlement services are now offered at ourFinch office. Services are offered in English & Tagalog every Monday and English & Spanish every Tuesday.
The address of the Finch office is 1122 Finch Ave West, Unit 1, North York, Ontario M3J 3J5. You can book an appointment there by calling our Keele Office at 647-776-2057.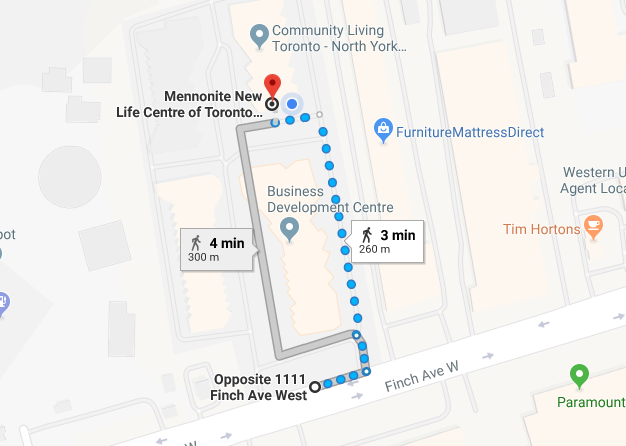 For more information on the settlement program, please visit mnlct.org/settlement/
Upcoming Workshops and Citizenship Classes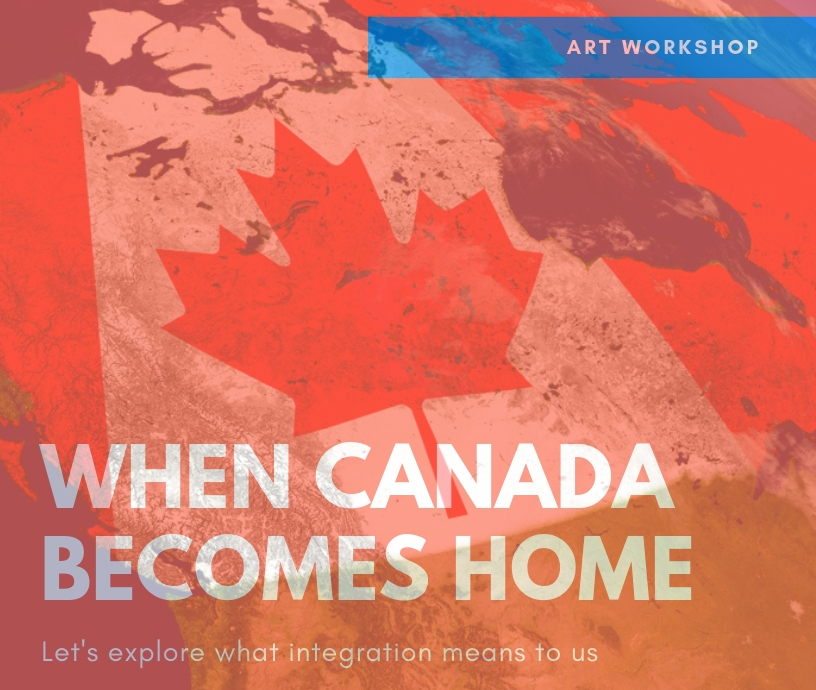 We invite our new and existing clients to join us on Saturday, March 23rd from 9am – 12pm for an art workshop located at our Keele Office (2737 Keele Street, Unit 9, North York ON M3M 2E9). Call us at 647-776-2057 to learn more about this workshop and to register. Light refreshments and TTC tokens will be provided. Let's explore what integration means to us!
Citizenship classes will return in May and will be offered in English, Arabic, and Spanish. Stay tuned for more details that will be posted on our website and social media!
---
Bridging Programs Available Across Ontario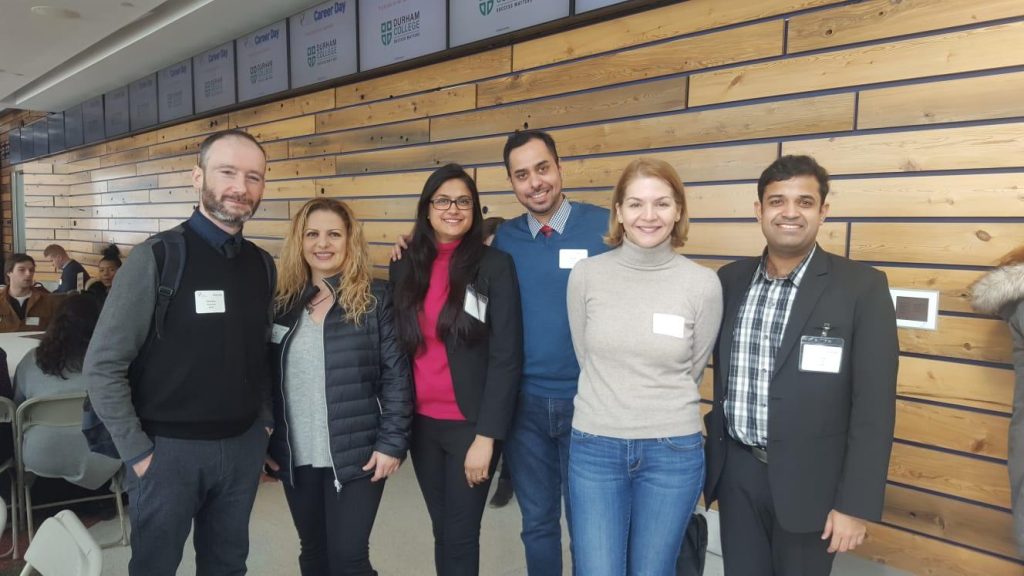 BEMC, which started last October, is the newest program at MNLCT. Our small but very talented and dedicated first cohort has worked hard over the last 5 months to learn about the media landscape in Toronto and explore their career opportunities here. Since January, they have had opportunities to network with the media industry through field trips and events at OMNI Media and Corus Entertainment. They are currently busy interviewing for their work placements and we wish them well as they get their careers started in Canada! Let's also give a warm welcome to our new Program Manager, Timaj Garad!
Join us for an information session on March 18th to learn more about the program. Sign up atbridgingprograms.eventbrite.ca
The deadline for applications for the next cohort is April 17th. Classes begin on May 21st.
Learn more about BEMC by visiting bridgingprograms.org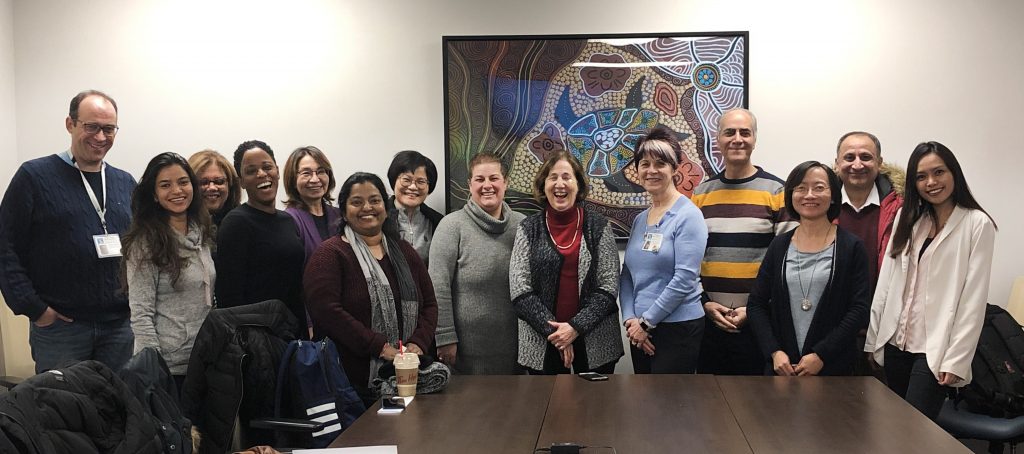 The BREM deadline for applications has now been extended to March 29th.
Join us for an information session to learn more about the program on every first and third Wednesday of the month,
March 20th, April 3rd, April 17th. Sign up for an online or on-site info session at bridgingprograms.eventbrite.ca
Classes for the next cohort begin on April 24th.
BREM Graduate Success Story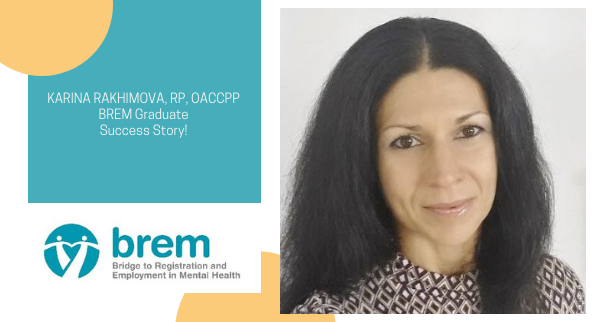 Karina Rakhimova, RP, is originally from Russia and has a master's degree in psychology from her home country. Her journey brought her to Canada where in 2016 Karina found the BREM program (formerly BTMH) and started to believe it might be possible to re-enter her original career and connect with her educational background and true passion – therapy and counselling.
Karina proved to be an outstanding participant in the program, actively challenging herself, studying hard and demonstrating her astute talent for supporting vulnerable clients with her caring and empathetic approach.
Karina completed a placement with a bereavement care program as part of a hospice palliative team at a community agency. She also successfully applied to and received registration with CRPO as a Registered Psychotherapist.
Karina continues to work in a paid role in the field of bereavement. She is also actively involved as a member of the Toronto New Life Wellness Place which provides multicultural, multilingual therapeutic wellness services for people in the Greater Toronto Area needing mental health and wellness support.
Read the full story: I believe in people's ability to create a different future
---
New dates for HOPES and LIGHTS Program Workshops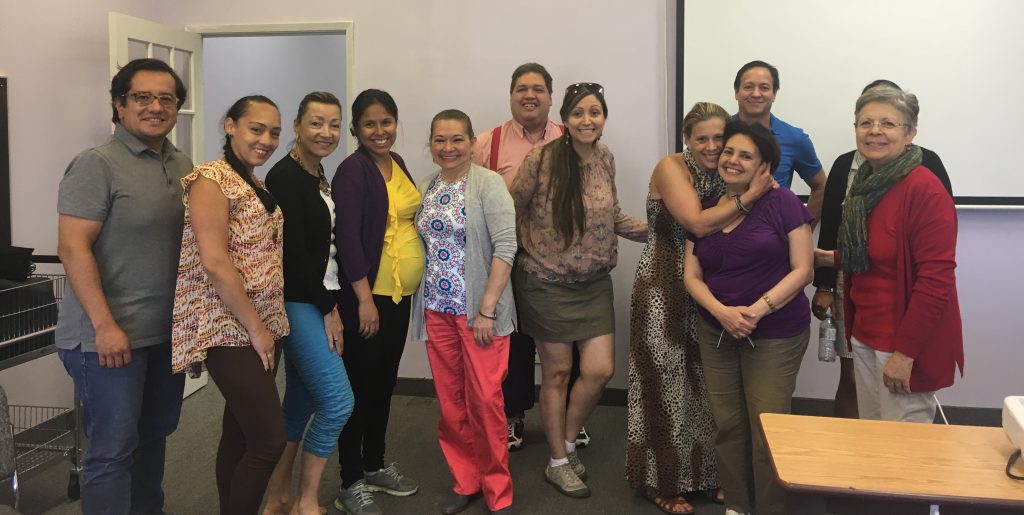 Cohort 5 of the HOPES (Helping Our Newcomers Prepare for Employment Success) program (in Spanish) will be at the Keele office (2737 Keele Street, Unit 9, North York, ON M3M 2E9) on Saturday, March 9th & 23rd from 1:30 to 4 pm. Learn more about the HOPES program by visiting mnlct.org/hopes
LIGHTS (Language Instruction Giving Hope to Trauma Survivors) program is looking for participants for the next session that will be running in April 2019. Learn more about LIGHTS by visiting mnlct.org/lights
You can also call us at 647-776-2057 to learn more about the two programs.
---
Workplace Communications in Canada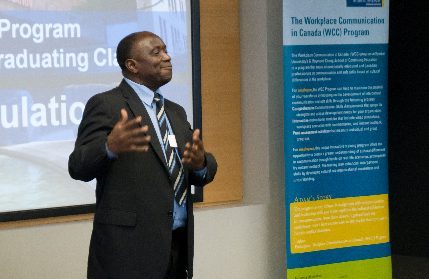 MNLCT is pleased to announce that we are once again partnering with the G. Raymond Chang School of Ryerson University to deliver the Workplace Communication in Canada (WCC) Program at our Finch office starting March 23, 2019.
The WCC Program provides intercultural communication and soft skills training and helps professionals enhance awareness and understanding of cultural differences in communication in the Canadian workplace.
To qualify for the WCC Program, participants must hold a Bachelor's degree from outside of Canada, have a CLB of 6 or higher, and be a citizen, resident, protected person or a refugee claimant with work permit who resides in Ontario.
More info on the WCC Program: mnlct.org/wcc