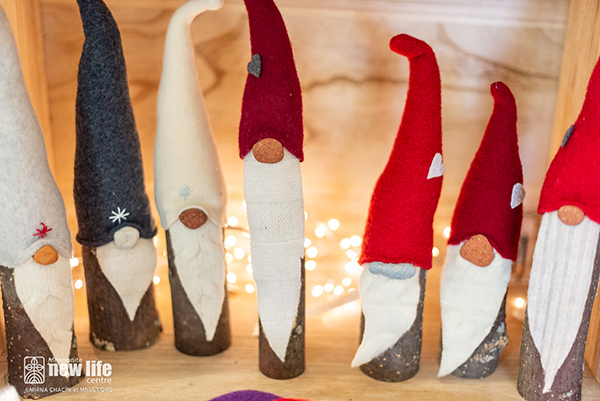 HOLIDAY MARKETPLACE: Newcomers and locals join hands to promote their creative inspirations
Mennonite New Life Centre's Queen Street location was alight with holiday cheer as local vendors teamed up with immigrant and refugee artisans to market their talents in the third annual Holiday Crafts & Food Marketplace.
Written by Aparna Chandra, Photos by Mirna Chacin
How long can the good of a random act of kindness last? An eternity, hopes Carol McFall. While visiting the Holiday Crafts and Food Marketplace, she was struck by an idea when she spotted the Winter Wonderland selfie area: a picture of herself as a Christmas gift for her sister suffering from dementia. "To help her remember me," she says.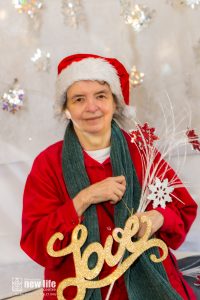 Except, Carol was not carrying her smartphone and felt out of solutions when a vendor at the Marketplace, photographer Mirna Chacin, stepped in and shot an endearing festive portrait. As the sisterhood of the moment prevailed, organizers of the Marketplace –  Mennonite New Life Centre of Toronto (MNLCT) –  arranged for a print of the photograph to be sent as a keepsake.
And much like this, the Marketplace that took place on December 7 in Toronto was a collection of seasonal generosity, bonhomie and fortunate souls.
With more than 30 vendors setting up an array of artisanal products – home utility items, hand-made furniture, jewellery, clothing, winter attire, skincare and bath products, and  on-the-spot massages – the event offered plenty of options for shoppers.
One visitor, Amy Pemas, was quite overwhelmed by the ambiance and the variety of talents on display. "I purchased so much, and also won the cheese tray and coaster set in the raffle," she said excitedly.
She even tried to get her hands on a painting that was on sale in aid of the Aphasia Institute. Amy and her mother were so pleased with the event they expressed their wish to participate as vendors next year. "This event was beautifully and carefully curated. We loved the craftsmanship and artistry of all the items."
Hourly raffles, door prizes, a well-contested silent auction and a 50/50 draw ensured Lady Luck hung around long enough. There were 34 silent auction and raffle items, which were donated by vendors, local merchants and Toronto Ultimate (frisbee) Club (TUC) members, which brought in $853.
The TUC community was very supportive of the event. A quarter of the silent auction and raffle items were bought and won by TUC members. The two most-bid-on items were a clay pottery bowl, which was donated by TUC member Helen O'Sullivan of Locally Thrown Pottery, and a breakfast basket, donated by MNLCT board member Miriam Reesor of Reesor's Market & Bakery. TUC member Dan Shalinsky was the 50/50 draw winner and he wholeheartedly donated his winnings back to the Centre. And scores of TUC members supported local and newcomer artisans alike with their purchases.
Meanwhile, the aroma of freshly made dishes emanating from the food booths that featured various international cuisines filled the space.
Dina's table laid out a delicious cultural fare that was reflective of her Palestinian homeland. Shoppers were eager to savour her sumptuous traditional dishes, including mosakhan chicken rolls that turned out to be quite popular, lentil soup, fatoosh salads, falafel wraps, and mujadara – rice and lentil dishes. And her desserts proved to be outstandingly popular, in particular the knafe pudding complemented with a choice of cheese or cream – and to top it off, dark Arabic coffee brewed with cardamom.
Across on the other side of the aisle – and the world – Betsabe Guzman presented her Latin American flavours to the public with a variety of warm lunch meals. Beans, tofu, and tangy meat gravies were a relief from the cold outside and the hubbub of shopping. Since moving from Colombia where she trained as a chef, Betsabe has reignited her career as a personal chef in Canada.
As a charitable organisation in service of refugees and immigrants on their journey in making Canada home, MNLCT relies on such fundraising events to support the agency's vision. Needless to say, this year's Holiday Marketplace turned out to be a celebration of this ethos with approximately $3,000 raised.