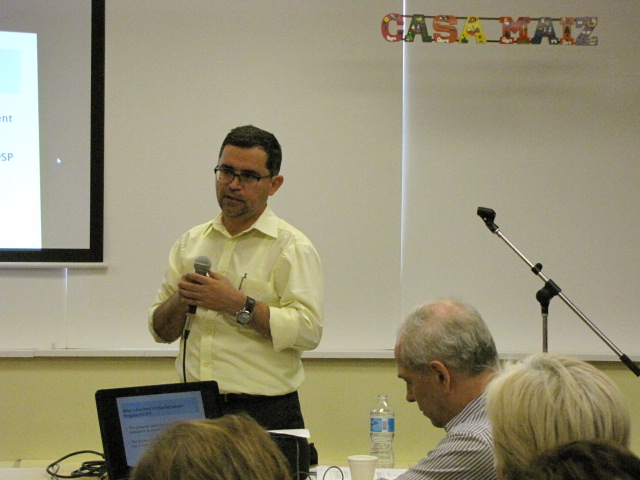 Through this program, we work with community partners to offer high-quality orientation sessions and workshops to immigrants and refugees. We work with your association, group or organization to bring to newcomers the information and support they need, when and where they need it.
Mobile Services are free of charge and presentations are individually tailored to the needs of your diverse community members. We value your connections with newcomers and want to support you by bringing our expertise directly to your organization. Our team of facilitators can travel anywhere in the GTA to offer expertise in the areas of immigration, employment, settlement and mental health. We can deliver sessions in English, Spanish, and Mandarin.
Our Areas of Expertise
Our organization has over 30 years of experience working together with newcomers in areas such as:
Immigration and Settlement
• Guidance on immigration rules and processes
• Support with immigration applications & sponsorships
• Citizenship test preparation
• Understanding of refugee law
• Overview of government programs such as Child Tax Benefit, OW/ODSP, Legal Aid & Childcare Subsidies
Employment
• Job search tools and networking strategies
• Resume & cover letter writing
• Successful interview skills and Canadian workplace culture
• Transferable skills & re-training options
• Employment insurance
• Workers' rights in Ontario
Mental Health & Wellness
• Parenting workshops (children and teenagers)
• Couples & healthy relationship sessions
• Stress and Anxiety Management Techniques
• Conflict Resolution and Life Skills
• Building Strengths and Empowerment
Our sessions are customized to permanent residents. We require a minimum of 10 people for each workshop and participants will need to be registered during the session for record management requirements. For any questions on our program and how we can work together, please contact Mario Bianchi, Program Manager: mbianchi@mnlct.org
At the Mennonite New Life Centre, we believe the best way to serve immigrants is through strong community partnerships. Let's work together for newcomer success!