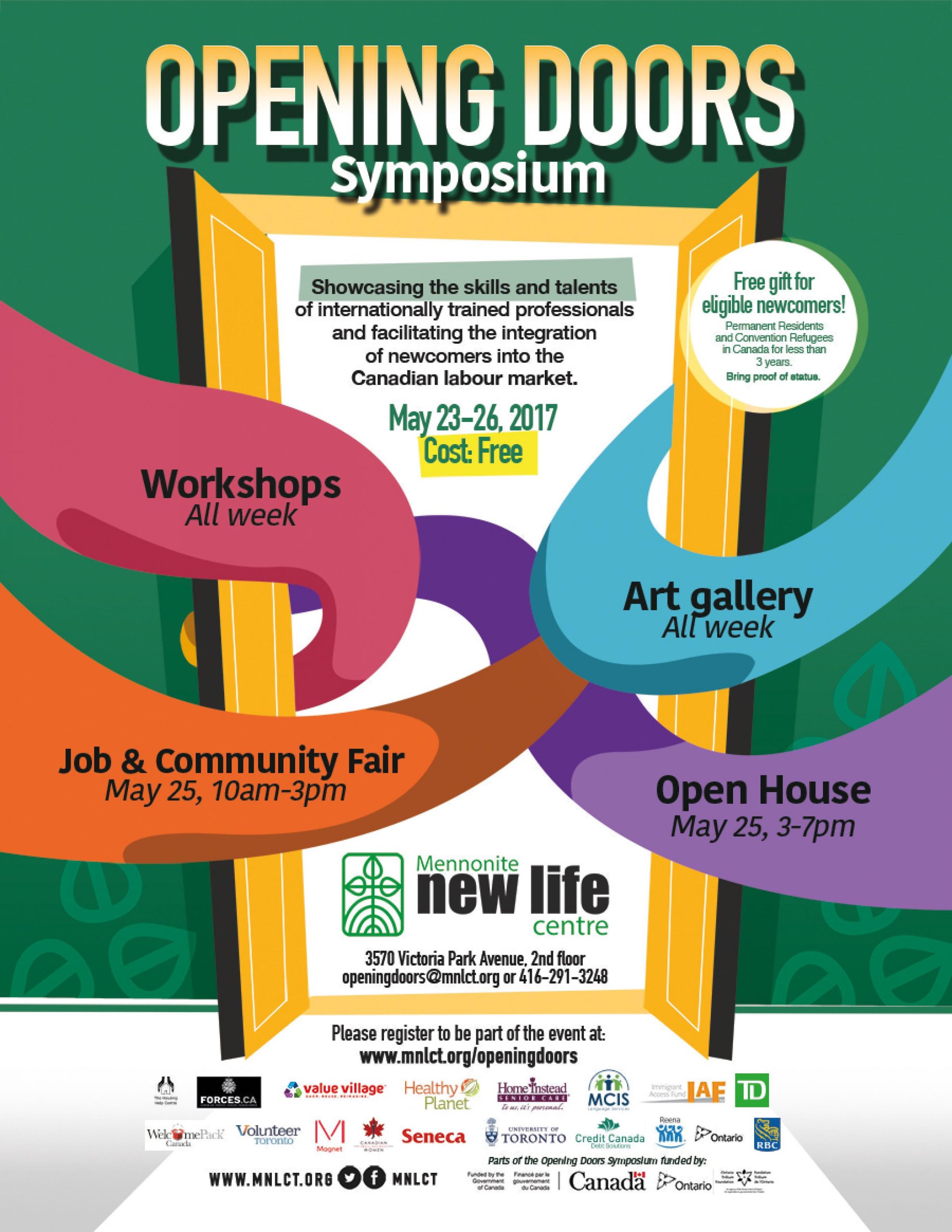 Opening Doors Symposium: Job Fair, Open House, Workshops, Art Gallery
Opening Doors Symposium: Post-event Wrap-up
"I am so thankful of being part of this memorable event and it was one of the most amazing days in my life. I could feel we were as a family with one wonderful goal in a very warm and collaborative space. It was truly one of my best experience without feeling as a guest in this country, but as a host!"
— Shahrzad Shaghaghi (Opening Doors volunteer, MNLCT Bridge Training Program for Internationally Trained Mental Health Professionals participant, and newcomer visual artist)
From May 23-26 2017, the Opening Doors Symposium featured a job fair, a resume clinic, 35 workshops, an open house, and an art exhibition in support of newcomers. Held at our new Victoria Park location, Opening Doors attracted 600 participants, 8 job fair employers, 15 community partners, and 17 visual artists alongside 40 MNLCT staff members and 25 volunteers, demonstrating a commitment to a diverse and talented workforce across all sectors.
Employers were on site for the Opening Doors Job Fair on May 25 and many job seekers begin the hiring process with different employers. Dozens of newcomers practiced their elevator speeches showcasing their skills and talents.
Hundreds of people took advantage of the informative workshops that focused on newcomers' needs and required supports for entering the labour market.
Newcomer artists displayed authentic visual art pieces throughout the week. More than 350 people visited the Art Gallery and had the chance to vote for their favourite artwork. The winner of the Opening Doors Community Choice Award 2017 is Nellys Garcia, from Venezuela. Jaime Portillo, from El Salvador, received a special acknowledgement as runner up.
Many thanks to all those who participated in this unique and memorable event!
(Click the images below to see them full-size in the gallery.)
[envira-gallery id="6173"]
---
Opening Doors Symposium
Tues. May 23 – Fri. May 26 at 3570 Victoria Park Avenue (2nd floor)
MNLCT Victoria Park open house, job & community fair, workshops, art gallery and much more!
FREE admission — all are welcome. FREE GIFT for eligible newcomers (Permanent Residents & Convention Refugees in Canada for less than 3 years; bring proof of status).
Register online at mnlctopeningdoors.eventbrite.com!
Download the latest list of workshops to make registration easier: Workshop Schedule (as at May 11, 2017)
Check out the Opening Doors flyer, which includes a map of the event location.
---
Job Fair
On May 25, 2017 from 10am to 3pm, chat with 20 hiring employers and community partners about your next career move.
Job seekers, make the most of your Job Fair experience by reviewing our Job Fair guidelines for participants and then get ready to meet these hiring employers:
Not quite ready for a job in your desired field? These community partners can offer guidance on next steps to take to reach your goal:
Eligible* newcomers, don't forget to pick up your free gift from MNLCT's new partner, Welcome Pack Canada!
*Permanent Residents & Convention Refugees in Canada for less than 3 years; bring proof of status.
---
Open House

Meet the MNLCT staff behind our innovative programs.
From 3pm – 7pm, stop by and visit with MNLCT staff and learn about programs and services that might be right for you, in the areas of:
settlement
mental health and wellness
employment & language training
counter human trafficking
community engagement
Check our Programs & Services menu online to get a general idea of what we offer, then visit us on May 25 to meet our staff and get your questions answered.
---
Workshops
Choose from over 40 free workshops to help you on your journey to meaningful employment!
From May 23 to May 26, workshops will presented by MNLCT staff and partner organizations on the themes of:
Meeting Canadian Employers
Preparation for Employment
MNLCT Services & Supports
Financial Solutions
Home & Family Services & Supports (including mental health & wellness)
The employment-themed workshops are all in English, and home & family–themed workshops have offerings in English PLUS Arabic, Farsi, French, and Spanish. Participants can also receive individual feedback on their resumes by registering for one of our Resume Clinics.
Read through the schedule at Workshop Schedule (as at May 11, 2017), then register online at mnlctopeningdoors.eventbrite.com. Hurry, space is limited and workshops are filling fast – you won't want to miss these FANTASTIC sessions!
Many thanks to our community partners who are joining us to support immigrants and their families by presenting workshops at Opening Doors:
Trouble registering? Contact us at openingdoors@mnlct.org or 416-291-3248.
---
Art Gallery
Enjoy artwork from newcomer artists!
Confirmed artists:
Mhmod Ali Fahmi Alkhafadji
Ainur Alipkaliyeva
Tuba Başkurt
Carlos Charris
Mao Correa
Nellys García
Adriana Graceni
Irma Gutierrez
Tania Iraheta
Kay
Edgar Saul Molina
Jaime Portillo
Shahrzad (Sherry) Shaghaghi
Natalia Starikova
Alba Zambrano
Visit the Art Gallery and vote for your favourite piece! The recipient of the Community Choice Award will be announced on Thursday, May 25 at 6:00pm.
---
Can't attend but wish to support the social and economic integration of newcomers? Please donate!

Questions about the Opening Doors Symposium? Contact us at openingdoors@mnlct.org or 416-291-3248.