Participatory Action Research: A Question of Lacking Access or Diversifying Action?
This report, by the Community Engagement Program at the Mennonite New Life Centre, reveals how the Latin American community is marginalized
by the mainstream definitions of civic and political engagement which are traditionally bound to the electoral realm, as opposed to engaging with socio-economic realities of residents.
We argue that the Latin American community has in fact been engaged politically in the informal political sphere and that analysis of this engagement can offer important insights for generating interest in electoral politics.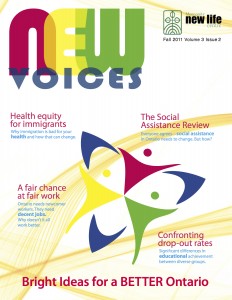 In this issue of New Voices, our contributors offer new inspiration and practical proposals for mobilizing the full potential of Ontario – increasing academic success rates for immigrant youth, ensuring newcomers enjoy the health and wellness necessary to make their full contributions, and improving access to employment opportunities commensurate with the skills and experience of diverse job seekers.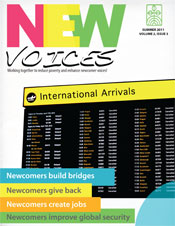 Canada is a better place thanks to the contributions of new Canadians. As our writers show, new Canadians are invigorating our democratic debate, building bridges between cultures, giving back to local communities, and stimulating the economy through creative entrepreneurship. Our collective future, urges retired Senator, and former United Church Moderator Lois Wilson, depends on the ability of individuals, institutions and communities to open themselves to both the gifts and the challenges of diversity.
The struggle for equity is not new. Every generation plays its own role in this struggle, challenging the elected government of the day to deepen our national commitment to democracy, equity and social inclusion. Our contributors challenge us to do better. They remind us that we are all responsible for advancing equity in Canada. Our writers reaffirm the critical importance of freedom of expression to healthy, democratic debate, and invite the discussion between communities and elected decision makers.
Beyond Canadian Experience
In 2008, with the generous support of the Metcalf Foundation, the New Life Centre launched the pilot project Newcomer Skills at Work: Refusing to Settle for Less.
This project seeks to support, encourage and empower low‐income newcomers to find fair and meaningful employment, while engaging them in analysis and advocacy to overcome systemic barriers.
The Newcomer Skills project has been a step forward in strengthening the capacity of the New Life Centre to respond to newcomer needs and aspirations in the areas of employment, leadership development and civic engagement. It incorporates employment mentoring activities, such as capacity building workshops and group mentoring for newcomers with a shared work background, while also promoting the participation of newcomers in advocacy‐related efforts, through our Newcomer Advocacy Committees and the broader anti‐poverty movement.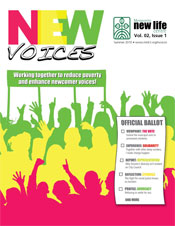 In this edition of "New Voices", we have invited internationally trained journalists, newcomer activists, and members of grassroots organizations to share their experiences and reflections on participating in Canadian political life. Our contributors speak out on a wide range of issues from migrant rights and fairness for temp workers to municipal voting rights for permanent residents and immigrant representation at City Hall. Each of our writers points to the importance of collective action and solidarity among newcomers.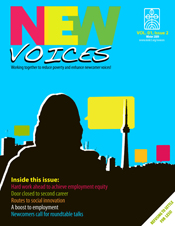 In this issue, internationally trained journalists explore the themes of employer incentives and legislative change, newcomer internships and employment equity. They tell the job search horror stories that call for change, and the internship success stories that point to best practices. They talk to newcomers, employers, policy analysts and decision makers about the benefits and challenges of establishing a new job creation fund, or bringing back employment equity legislation to a province that repealed such measures in 1995.
Latin American Civic Participation Campaign