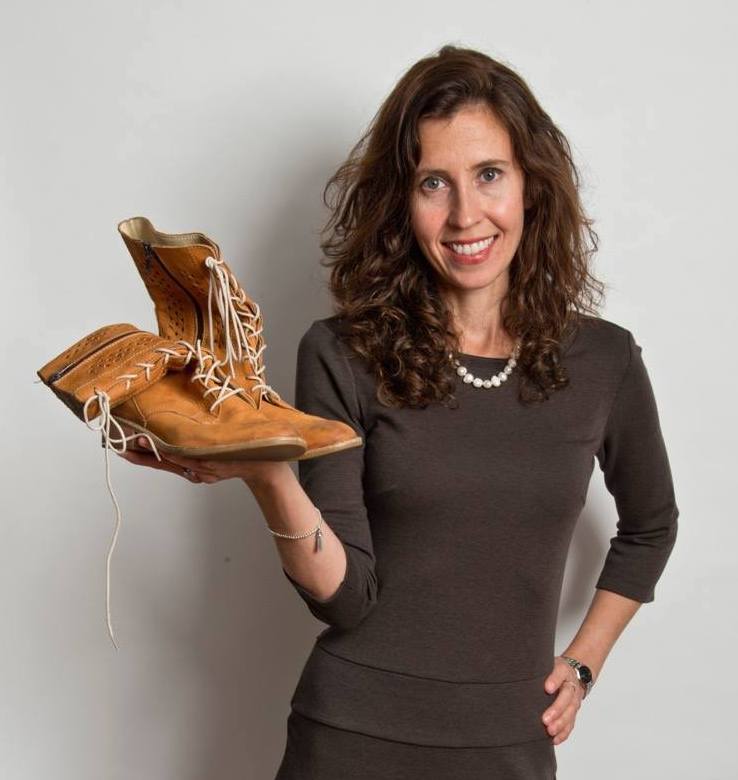 A Sole Searching Adventure
Natalia Rodriguez, an MNLCT Settlement and Wellness Worker, talks about her experiences with The Shoe Project, a Toronto-based women-led, charitable initiative showcasing the plight of female immigrants and refugees.
by Miles Hamzi
What is your affiliation with The Shoe Project?
I joined The Shoe Project in 2014 when I first participated in a writing session with Katherine Govier, a Canadian writer and artistic director of the project, and a group of educated women from around the world. Since then, I have taken part in three performances – two at The Arts & Letters Club of Toronto and one at George Ignatieff Theatre at the University of Toronto. I wrote four stories and the first one, which is titled My Student Shoes, was used as teaching material at a LINC school.
What is their mission?
The Shoe Project encourages immigrant and refugee women to elaborate on their most meaningful life events by participating in writing workshops mentored by English teachers, Canadian writers, and theatre artists. The goal is to honour women from various cultural and professional backgrounds, and to promote their integration into Canadian society.
How did The Shoe Project help you with your transition to Canada?
It helped me rediscover meaning in every decision I have taken since I embarked on my immigration journey 15 years ago. It helped me build confidence to do what was once unthinkable, like standing in front of strangers at a theatre and sharing fragments of my life in the form of a short story.
You open your heart and let the audience get emotionally involved in your struggles, sacrifices, and successes. It takes a lot of courage to be in the spotlight, and the exposure is certainly rewarding and inspiring.
I met wonderful women and made great friends. I received first class theatrical training by Eve Crawford, a Canadian actress who has played many roles in Hollywood movies, and was coached by drama teachers.
Tell us about your 'shoes'. What makes them so symbolic?
I wrote four stories that involve four pairs of shoes. My first story is about my first years in Canada when I was dealing with expectations as an adventurous and inexperienced psychology graduate from Uruguay, the experience of being a live-in nanny with limited financial resources, and my frustrations of being nobody – almost invisible – in this multicultural and impersonal Toronto. It's a story about hope, resilience, and the greatness of making friends in a host country. At the time, I was walking in a pair of leather shoes, handmade in Uruguay called guillerminas, which were popular during my student years.
Another story is about my childhood growing up surrounded by family, which I definitely long for here. I dedicated it to my grandmother who had bought me white leather girls shoes I used to wear at family events.
The other two stories illustrate my difficulties in trying to abandon my comfort zone while exploring new paths. They are about my insecurity and resistance to making changes, taking risks, and trying new things. It is about allowing myself to be more adventurous and to believe that I am not only capable of taking on new challenges, but enjoying them.
How did your shoes help you on your journey?
Having many eyes looking at you while you are talking about yourself can be frightening. The shoes helped me overcome my own personal limitations and to feel proud of how much I have grown since I decided to come to Canada and start a new life here.
As a newcomer, what was your most challenging experience?
The most challenging experience was to live far away from my loved ones, to miss those special moments such as family reunions, conversations with my mother while having yerba mate (popular Uruguayan drink), strolls with my father, and the joy of having a sister, brother, niece, nephew, and wonderful friends to spend time with.
Have you replaced your old shoes with new ones?
Each shoe is unique and never replaceable, even if you have the same story to tell, you never do the same performance. The audience is always different, and you are no longer the same performer you were the previous day.
What is your ideal pair of shoes?
I do not have ideal shoes, per se. Sometimes my ideal shoes are a pair of slippers if I feel like staying home and relaxing, but in other situations, I feel more like wearing fancy shoes with high heels. I identify with shoes that are classic, original, comfortable, good quality, and preferably handmade – that is me.