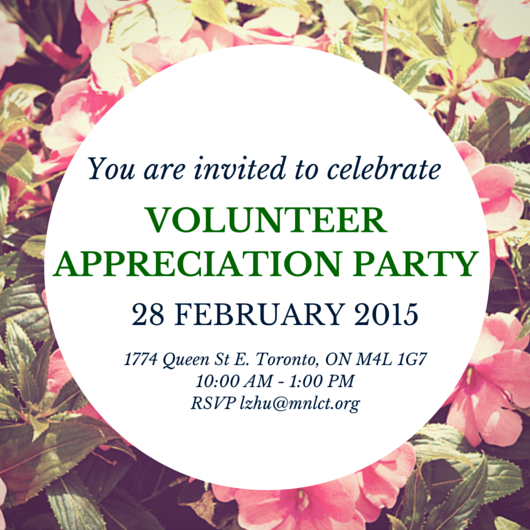 Volunteer Appreciation Party
February 13, 2015
Let's celebrate!
There is an old Masai proverb that says "one hand cannot clap on its own, but it needs the other hand to make a clap."
You have touched the lives of hundreds of individuals and families with your support, dedication and talent, and your contribution has made a difference!
For all these reasons, we want to extend you our heartfelt thank you!
Let's clap together to celebrate another year of friendship, volunteerism and work for the successful integration of newcomers!
Save the date! On Saturday 28, 2015 we invite you to the Mennonite New Life Centre of Toronto Annual Volunteer Appreciation Party.
Location: 1774 Queen St. East. Toronto, ON M4L 1G7 MAP
Date: Saturday, 28/FEB/2015
Hour: 10:00 AM – 1:00 PM
RSVP Lingling Zhu