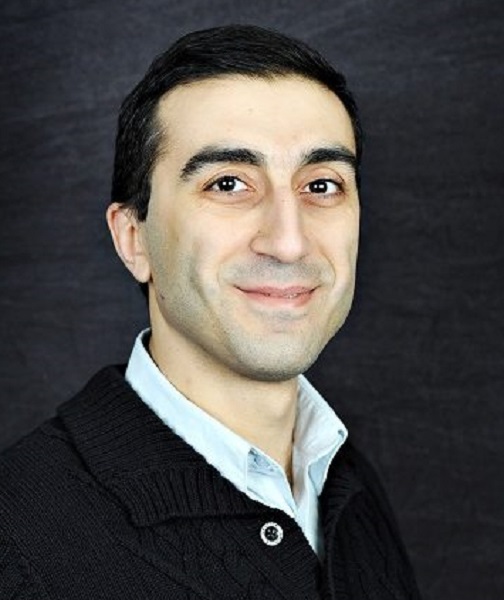 Gerard Keledjian – Community Impact Award Recipient 2016
(Toronto, ON) – The Mennonite New Life Centre of Toronto (MNLCT) is pleased to announce that it will present a special Community Impact recognition award to Gerard Keledjian during its upcoming Citizenship & Inclusion Ceremony on Tuesday November 29th, 2016.
Gerard is an Armenian-Canadian media professional who emigrated from Dubai, UAE with over 15 years of media and journalistic experience. Upon arriving in Toronto, Canada he expected to transfer his vast knowledge and experience in media and communications easily to the Canadian job market. Multiple barriers to entry, including being told that "media is one of the most difficult areas to break into for immigrants", did not prevent Gerard from thinking creatively and learning to navigate a very convoluted system of players in the media sector.
As a skilled networker, Gerard embarked upon finding other immigrant journalist and media professionals. He created a new professional immigrant network (PIN), called New Canadian Media Professionals Network (NCMP), for the internationally-trained where the focus was on sharing knowledge and experiential learning. The ultimate goal of this networking group is to help connect Canada's mainstream media to its diverse and multicultural communities.
His passion and ideals have shaped the work of this PIN and have taken Gerard and his colleagues to meetings with large media conglomerates such as Rogers, CBC, and Global TV (Shaw Media) to discuss tangible changes in how mainstream media engages with its diverse viewership. Eventually, Gerard would volunteer with Rogers TV community channel in Toronto to produce a weekly magazine for newcomers to Canada named "Introducing Toronto" – connecting newcomers with their city and offering insight into the many services available to help newcomers find their own footing in Canada. In 2015, he relaunched the TV magazine under a new name – "New Canadians" – broadcasting on OMNI Television across Canada and online.
Gerard has since taken his role in showcasing the contributions of newcomers to the next level by embarking on his own entrepreneurship journey. In recent years he created New Horizons Media, a for-profit business with a social mission to depict honestly the journeys of newcomers and immigrants to Canada. Using New Horizons Media as the vehicle to engage NCMP members, they have worked on over 21 projects, produced over 100 video clips, and have gained the trust and business of immigrant serving agencies such as OCASI, TRIEC, and Magnet.
In 2015, Gerard was awarded the Pioneers for Change Award for Excellence in Innovation.
Gerard continues to show that evolution of mission and vision is essential to success as a Canadian. Most recently, he co-founded Valu Ventures, a social enterprise that provides startup support to Canadian immigrants who want to venture into entrepreneurship — with or without past business experience. Based upon his own experiences, he realizes that in order for newcomer entrepreneurs to succeed, there need to be vehicles to discover and nurture entrepreneurial talent among social innovators in Canada.
In October 2016 he organized one such vehicle — the first Immigrant Business Expo (IBE) in Toronto — where he brought together over 300 new immigrant entrepreneurs, service providers, and business experts for a day full of learning and networking opportunities. Prior to IBE, Gerard used to host The Immigrant Café, a monthly meetup for newcomer entrepreneurs, in collaboration with the Toronto Public Library.
This well-deserved recognition will be presented during Mennonite New Life Centre's Citizenship and Inclusion Ceremony taking place on Tuesday November 29th, 2016 at Toronto City Hall, 100 Queen St W, Toronto, ON M5H 2N2 from 7:00 – 8:30 PM in the Council Chamber.
Media and members of the community at large are welcome to join us as we honour the many contributions of an innovative and creative leader who advocates for the social and economic success of immigrants.
For more information or to arrange an interview, please contact:
Shelly D'Mello, Executive Director, Mennonite New Life Centre
Let us know how we can help you