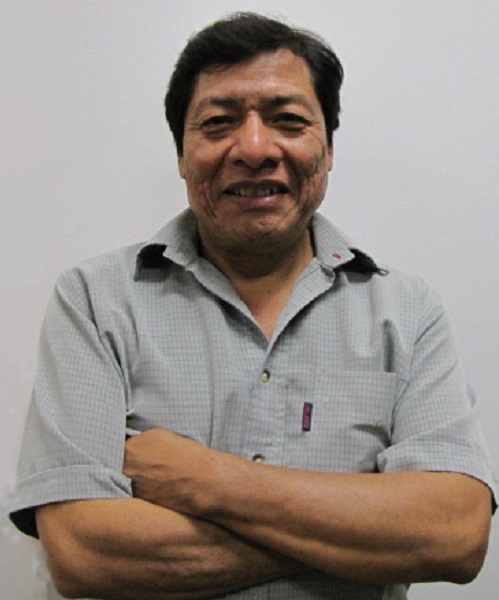 Jorge Saban – Community Impact Award Recipient 2015
June 11, 2015
Guatemalan Psychologist Wins Community Impact Award 2015
(Toronto, ON) – The Mennonite New Life Centre of Toronto names Jorge Saban as the 3rd annual Community Impact Award recipient. The award ceremony will take place on June 23, 2015 at the MNLCT Annual General Meeting, held at 1774 Queen St. East, Toronto at  6:00 PM.
Each year the MNLCT honours an individual who has shown a commitment to the advancement of immigrant communities through advocacy, leadership and community service. The Community Impact Award celebrates the contributions of  such individuals as they add to the rich tapestry of immigrant skills, knowledge and experiences in Canada.
This year, MNLCT honours Mr. Jorge Saban for his tireless efforts in mitigating the devastating effects of mental health issues in communities across the Greater Toronto Area, specifically with a newcomer population. Mr. Saban's contribution to the MNLCT over the years and its clients is exhibited in the long standing offering of services in anger management for both men and women.
As an immigrant, psychologist, counsellor, and communicator, Jorge Saban  set an example of dedication to serving families and individuals. Throughout his career of more than 15 years, he has shifted perceptions and behaviour in the areas of domestic violence, addictions, and the intersection between mental health and the criminal justice system.
Shelly D'Mello, Executive Director of the Mennonite New Life Centre commented "Jorge Saban's career is an example of commitment and passion. We are honoured to work with him. He has helped thousands of men and women  overcome anger and aggression issues through group and individual intervention. He has led anger management groups at the Mennonite New Life Centre for many years as well as at other organizations such as Counter Point and Catholic Community Services of York. Such group sessions help men to end controlling and abusive behaviour toward women and empower women to take charge of their lives".
Mr. Saban has also supported mothers and children to survive abuse in an initiative of the HEAL (Helping End Abuse for Life) Network of Peel. His work with families has included the facilitation of parenting groups, family mediation, trauma and grief counselling as well as treatment of alcohol consumption and addictions.
In the words of  Rosana Valladares, one of the participants of the HEAL initiative, "I have been in other groups, but in this group I can express myself and learn at the same time. I identified my strengths and step by step I am moving forward in my life".
Through his decade-long involvement with House Link Community Homes, Mr. Saban has helped individuals with severe mental illness and homelessness involved in the criminal justice system build meaningful lives and integrate with the community. Additionally, Jorge Saban has had a far-reaching impact on the Latin American community. Since 2007, he has hosted the show Aqui Familia (Here, family!) on Radio Voces Latinas (CHHA 1610 am). Aqui Familia is a radio show about family issues in the Spanish language. Each week he touches on topics such as bullying, sexual harassment, conflict resolution, communication skills and relationships.
The Mennonite New Life Centre invites the public to the presentation of this award on Tuesday, June 23, 2015 at 1774 Queen St. East. Toronto, ON M4L 1G7 at 6:00 PM.
For more information about the Mennonite New Life Centre of Toronto and its mission and services, visit mnlct.org.
For more information or to arrange an interview, please contact:
Shelly D'Mello, 

Executive Director,

Mennonite New Life Centre
Let us know how we can help you