Settlement & Employment Services

Settlement Services
Newcomers experience a wide variety of information, orientation, settlement and employment needs. With over 30 years of experience, our settlement program offers caring and professional settlement services, tailored to each individual. Our settlement workers assess needs and strengths, helping clients to meet immediate needs, and work towards future goals. All settlement workers are guided by our Service Standards.
Our settlement workers assist newcomers with a wide variety of needs and goals:
Orientation to life in Ontario
Immigration issues / information
Education and training
Job search and employment
Social assistance / income security
Housing / social housing
Child Tax Benefits
And more…
Settlement Services are offered in English, Arabic, Mandarin, and Spanish.
To meet with a settlement worker, please book an appointment. Call a settlement worker at (416) 291-3248 in Scarborough or (647) 776-2057 in North York. You can come back as many times as needed and the service is free.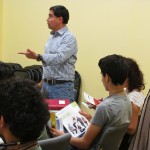 Mobile Services
Through this program, we work with community partners to offer high-quality orientation sessions and workshops to permanent residents and refugees. We work with your association, group or organization to bring to newcomers the information and support they need, when and where they need it.
Mobile Services are free of charge and presentations are individually tailored to the needs of your diverse community members. Our team of facilitators can travel anywhere in the GTA to offer expertise in the areas of immigration, employment, settlement and mental health. We deliver sessions in English, Spanish, and Mandarin.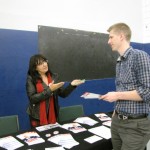 Itinerant Services
If you are a community-based organization, please let us know if you are interested in hosting itinerant settlement services.
Once a week, we could provide clients with practical advice on settlement and immigration issues,  referrals to resources in the community, and help to access social services. This service is open to all immigrants, refugees, newcomers to Canada regardless of immigration status.
"The Centre provided me with orientation and allowed me to forge ahead in my new life in Canada. It helped me to avoid errors and to get on with things quickly."
– Program participant
Employment Services
Our settlement program also helps newcomers find employment opportunities appropriate to their skills and experience. It offers participants opportunities to explore employment, self-employment and entrepreneurship for meaningful work and living.
Settlement counselors work individually with clients to assess goals, strengths and challenges with respect to labour market integration. Based on this initial assessment, they offer information and referrals to partner agencies to pursue certification or skills upgrading, or begin the job search process.
Eligible candidates can also benefit from Dress for Success, a program that provides job seekers with professional attire, a network of support and career development tools to help them thrive in work and life.
Call a settlement worker at (416) 291-3248 in Scarborough or (647) 776-2057 in North York, and check our calendar for future events!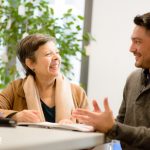 The Mentoring Partnership
As part of our efforts to help newcomers find a meaningful employment, we have partnered with Job Start to connect eligible immigrant professionals with The Mentoring Partnership initiative.
A program of the Toronto Region Immigrant Employment Council (TRIEC), the Mentoring Partnership brings together recent skilled immigrants and established professionals in occupation-specific mentoring relationships.
By working together with a mentor, participants gain a better understanding of the Canadian workplace and industry trends, develop more effective job search strategies, build a local professional networks and identify ways to leverage experience and skills.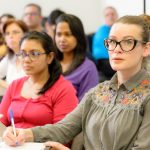 Bridge Training for Internationally Trained Mental Health Professionals
The Bridge Training Program for Internationally Trained Psychologists and Allied Mental Health Professionals (BTMH) is a continuing education program designed specifically for internationally trained mental health professionals.
Combining classroom instruction, supervised work experience, and job search support, this comprehensive and exciting program helps internationally trained professionals build the confidence and skills necessary for successful integration into the Canadian mental health workforce.
"The Mennonite New Life Centre was the key to our settlement process. They supported our difficult case throughout several years and their help ensured a happy ending to our story. We are now a family that calls Canada home."
– Eloy, Settlement Services Client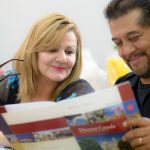 Citizenship Classes
Our traditional citizenship classes, offered continuously during the year, help participants prepare for the citizenship exam, and learn about opportunities for civic participation in Canada. The curriculum covers the official citizenship study guide, Discover Canada, enhanced with additional information and discussion about active citizenship.
We offer workshops in Spanish and English. Pre-registration is mandatory since space is limited. Call to 647-776-2057 to register.  
If your citizenship test is coming up before the next workshop cycle, settlement workers can provide individual assistance with understanding the citizenships study guide and preparing for the test. Call 647-776-2057 to book an appointment.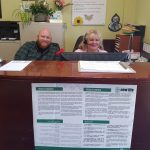 Interpretation and Translation (Spanish-English)
Based on volunteer availability, our clients benefit from interpretation and translation support provided in Spanish and English. Volunteer interpreters will accompany clients to appointments with doctors, social workers or lawyers.
These services include support with translation and certification of some identity documents for immigration purposes. Our translations are not certified by ATIO.
If you require interpretation services, please make sure that you provide a $10 donation for TTC transportation for the volunteer. Please book the service at least 2 days in advanced.