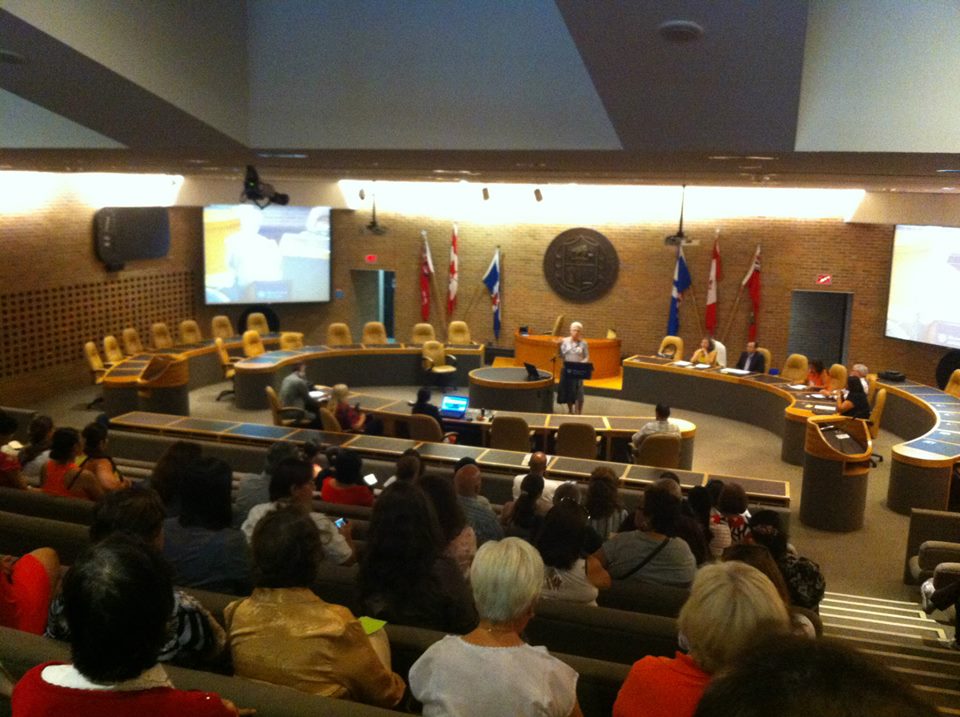 By working with other organizations from the settlement sector as well as those in the public, private and academic sectors, we develop innovative means of doing adult education work with immigrant communities.
As part of this process, we challenge our peers and are challenged by them, to think differently about the causes of struggles faced by newcomers and how best to address them. These spaces allow us to better understand where we stand as an institution relative to others in terms of our adult education approach.
Latin American Civic Participation Campaign (2010-2015)
The Latin American Civic Participation Campaign is a community-based initiative launched in 2010 by a group of 18 settlement agencies, community groups and social organizations that work together to promote civic and political engagement of the Latin American community in Toronto through public education, community-based analysis and organizing.
October 2010: Mayoral Debate on Immigrant Inclusion
This effort was part of the Latin American Campaign for Civic Participation, which aims to promote understanding of the Canadian political system and encourage community members to exercise their voice and vote. The Latin American Community Roundtable, a coalition of 16 organizations engaged with the Latin American community in North York, organized a mayoral debate with the five leading contenders for the top job at City Hall on October 6th, 2010. The theme of the debate was "Inclusion: Economic, Social and Political Participation for Diverse Communities in Toronto." For video coverage of the debate, please visit: vimeo.com/15780189
October 2014: Mayoral Debate on Immigrant Issues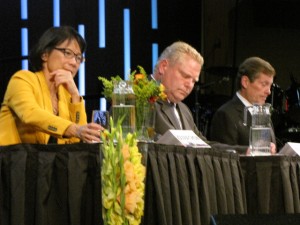 The Latin American Campaign for Civic Participation was active again for the Mayoral Election of the City of Toronto in 2014. They challenged the three leading candidates to answer questions about immigration, inclusion, poverty and political participation. Toronto's population is made up of 46% of first-generation immigrants, a one-third of them within 10 years of arrival to Canada.
While newcomers have a wealth of ideas, skills, and experience to offer to Toronto, this potential contribution has yet to be fully realized. It was important that Toronto's politicians understood the barriers to inclusion faced by immigrant communities and had a concrete action plan to tackle these challenges.
Beyond Canadian Experience project (2011-2013)
The "Beyond Canadian Experience" project is a collaboration of the University of Toronto Factor-Inwentash Faculty of Social Work, Mennonite New Life Centre, Chinese Canadian National Council Toronto Chapter, and the Toronto Region Immigrant Employment Council (TRIEC). The project is funded by Social Sciences and Humanities Research Council of Canada (SSHRC). Our main purpose is to deconstruct the notion of "Canadian Experience" with an eye to reducing barriers to employment experienced by immigrants. The goals of this public outreach project are to:
Profile and disseminate findings from recent community and academic research relating to the labour market integration of immigrants and the concept of "Canadian experience";
Create opportunities for multi-stakeholder, solution-focused dialogue through workshops, conferences, social media, theatre and other arts-based, interactive activities;
Highlight promising solutions and practices that challenge the concept of "Canadian experience" and/or seek to enhance the meaningful and long-term integration of immigrants into the labour market.
LIP working groups
Roundtable for an Inclusive Toronto