Welcome Home Benefit Concert, featuring The Fires Of with special guest Chad Price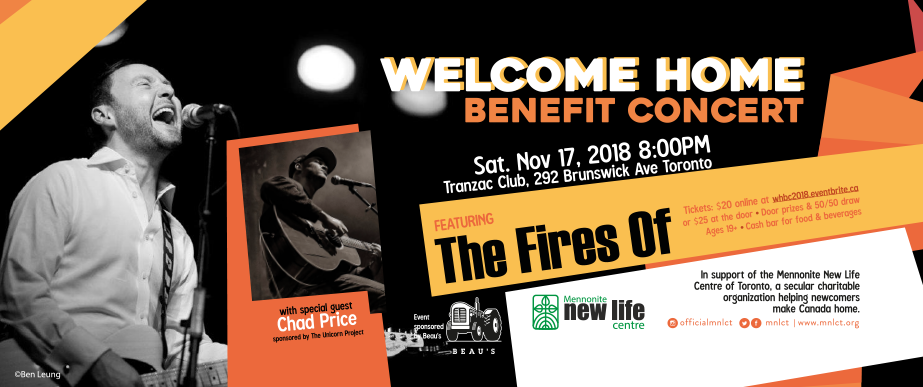 TICKETS ARE NOW AVAILABLE ONLINE: whbc2018.eventbrite.ca
Join us for an evening of music and merriment as we raise money to help newcomers make Canada their home!
Saturday, November 17, 2018
Doors open at 8pm
Tranzac Club, 292 Brunswick Ave, Toronto
Featuring not one but TWO great bands to enjoy:
The Fires Of is a collective of Canadian musicians that thrives on bringing joy and melody to the people with their infectious brand of indie-pop and high-energy live shows. The Fires Of have steadily been incorporating new sounds into their music, cultivating a fan base that heartily embraces their diverse rock 'n' roll sound.
Check them out here:
Chad Price is a Canadian artist who has accomplished much so far in his young musical career. He's had his music featured on national TV programs, he's had radio charting songs, he's a nominee and winner of multiple music awards, he's toured across Canada, and he's shared the stage with music industry heavyweights including Lights, and Walk Off The Earth.
Check him out here:
Doors open at 8pm, and we'll have a cash bar with food and beverages to keep us going all night. There are door prizes to be won, and you can try your luck at the 50/50 draw.
Come on out and bring your friends! Ages 19+.
Tickets are $20 online or $25 at the door and include the chance to win some of our fabulous door prizes.
Funds raised will support MNLCT programs for newcomers, such as settlement services, mental health counselling, and counter-human trafficking services.
Come on out to enjoy a great evening of music while supporting a great cause!
Special thanks to these organizations for donating door prizes:
Categories: Calendar, Special Events, What's New