Are you seeking a demanding and satisfying job in marketing, communications, or the media? The BEMC program is the only choice! You will graduate from this program with the abilities and information required to excel in a range of industries, including journalism, broadcast media, digital marketing, social media, and communications.
Why then wait? By learning more about the BEMC program, you may get out on the path to a prosperous career in media, marketing, or communications right now.
What is the goal of the Bridge to Employment in Media, Marketing, and Communications (BEMC) program?  
The goal of the BEMC program is to prepare globally skilled media, marketing, and communications professionals for meaningful careers in broadcast media, digital marketing, social media, communications, public relations, and journalism in Ontario by helping them acquire a thorough awareness of the media and communications landscape, practices, and job prospects in Ontario, increasing their knowledge of professional communication skills, and providing them with genuine job experience in the field through connections with employers and professional networks. 
What is BEMC and what does it offer to internationally trained media professionals? 
BEMC began in 2017 in MNLCT, and this bridging program offers two courses in the field of media delivered by qualified college instructors and industry experts, classroom instruction on the Canadian media landscape, professional workplace communication skills, supervised work placement opportunities, and ongoing career coaching and guidance.
Graduates have found success in media corporations, corporate communications departments, non-profit groups, and their own enterprises. 
Our Academic Partner in this program is Seneca College. 
Which jobs does BEMC prepare for, and what is the typical salary?
A 6-month program designed to prepare internationally trained media and communications professionals to find meaningful entry-level jobs in Ontario in the fields of:
Salaries and positions are an estimate of the labor market and may vary depending on the professional's profile. The data was obtained from the Job Canada and Indeed websites.
Who is eligible for the BEMC bridge program?  
To qualify for this bridging program: 
Residence: Ontario
Post-secondary instruction in media, communications, public relations, or similar fields outside of Canada
2 years or more of experience working in media, communications, or similar fields outside of Canada
CLB 7 language competency in reading, writing, speaking, and listening
Legal immigration status (Canadian citizen by birth, permanent resident, refugee under the Convention, and refugee claiming a work permit, CUAET)
How can we learn more about the curriculum of BEMC? 
When the program's start date approaches, the teachers will present you with the curriculum in the information session, and our channel on YouTube. To stay updated on this and other MNLCT services, we also welcome you to sign up for our newsletters.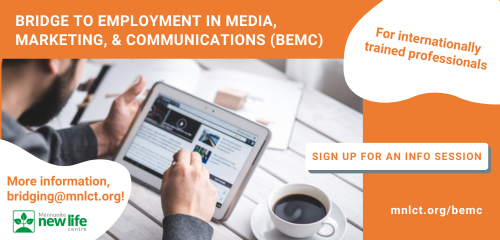 FAQ about Another Bridging Program